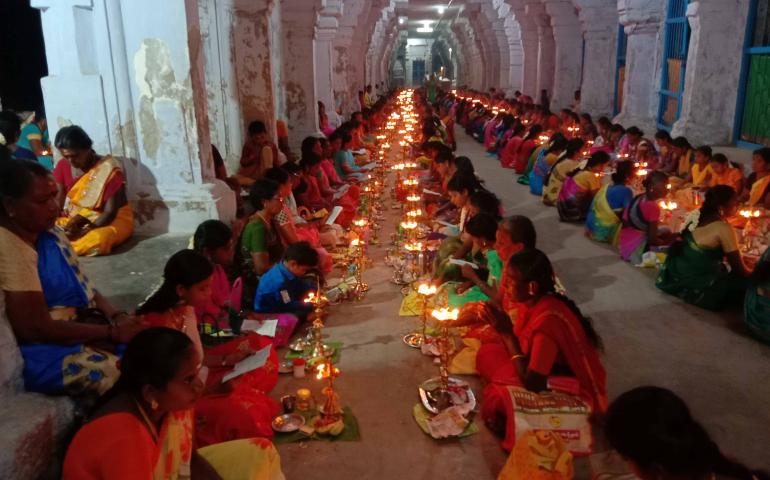 Service activities
"Through 75 Balwadis, 1758 rural Children were nurtured. In all the Balwadis, Malt along with hygienically prepared, highly nutritive lunch with vegetables were served during the day and in the evening vitamin-rich cereals were provided to the children".
Eye camps were conducted at 5 places, in Kanyakumari, Tirunelveli and Thoothukudi districts in which 517 were treated for their eye ailments and 75 underwent a cataract operation. 15 persons were given eye medicines and 18 persons were given spectacles.
In our Medicare Programme, 1688 patients were examined and treated for various common ailments, through 14 Rural Medical Centers in Kanyakumari, Nellai and Thoothukudi districts.
3 tailoring units are functioning well in Nellai district with the total attendance of 75.
Cultural activities
Yoga Varga has been conducted at two places in Aruppukottai and Kovilpatti where 26 persons attended.
Vivekavani Subscriptions 618 collected and two two years, two three years 3 life and one Patron.
Shivalinga Pooja conducted at 3 places in Kanyakumari District where 214 devotees participated.
Under 'Adopt a Granny Programme', 27 destitutes and old people were provided with monthly solatiums, in the form of rice, dhal,oil,etc., for their livelihood and 124 persons were provided with rice only in Southern five districts of Tamilnadu.
94 women are being benefited in 5 Self Help Groups in Kanyakumari district.
Durga Pooja was conducted at 3 places in Kanyakumari District and 248 devotees participated.
Through various branch centers, including Thoothukudi A.O. And book stalls, literature books were sold for Rs.82,685/- .
Monthly Deepa poojas were organized in 224 village temples in five districts of Southern Tamilnadu, in which 8413 ladies participated and offered prayers for the welfare of the self, family and the society.
In 175 Sanskara Vargas, 6702 students participated. The students were taught about the values of Indian Culture through games, lectures & lessons. The feelings of oneness were strengthened among the participants, through patriotic songs and games.
Under Amrita Surabhi Scheme, our Kendra workers collected 1168 Kgs of rice from Southern five districts.
Parents meeting were conducted at 39 places, in five districts in which 984 devotees participated.
Sampark programme team organised in Vallioor and VKRDP & VKV 142 persons participated. Sri. S.K.Subriramanian - correspondent VKV, Vallioor, Sri.Sankaranarayanan committee member, Ayyappan VKRDP Secretary, Ms.Maheswari Principal VKV participated in it.. Social workers refresher camp was held from 05.07.2019 to 08.07.2019 at Kanyakumari and 22 workers participated.All Social Workers visited Thiruparappu falls.On 8th July Vahana pooja was performed.
1008 Deepa Pooja conducted on 18.08.2019 in Uthragosamangai Arulmigu Mangaleswarar swami Temple, where 812 devotees participated from Ramand district. Before Deepa Pooja Cultural class and Balwadi students' dramas and songs were staged. Guru Purnima was celebrated at Southern five districts. Nearly at 77 places and 7263 participated in this programme.
On 16/08/2019 in memory of Shri Ramalinga Aasari and Smt. Ramalakshmi lunch with
sweets were distributed to 461 children in 22 balwadis of Kanyakumari district.
On 15.08.2019 Independence day was celebrated in 75 Balwadis and nearly 8402 people
participated.
Eknath Memorial Day has been conducted at 41 balwadies in five districts where 1001
persons attended.
On 23rd August Krishna Jeyanthi day Anna Pooja celebrated in grand mannar at sankarankovil . All local well wishers participated. The function was held in Krishna marriage hall at Sankarankovil.Vivekananda Kendra General Secretary Sri Bhanudasji, Sri Krishnamoorthi- Vivekavani Editor, and more than 200 persons attended the pooja and all were served with prasatham.Sri Sekar organised the programme. 5400 kg rice collected.
Krishna Jeyanthi Day has been conducted at 76 balwadies in five districts where 6581
persons attended.
Education aid has given to 25 students worth of Rs.3,38,025 for their term fees & tution fees etc., which was sponsered by Mohankumar Trust at Trichy.
Rural Block level competitions held in Southern five districts
Total No.of. competitions - 44, Schools - 360, Students -6051,
Parents - 262, Teachers - 434
Urban competitions held in Thoothukudi & Ramnad districts
Total No.of. competitions - 3, Schools - 40, Students -459,
Parents - 72, Teachers - 64
"Sri Rama Jeya Rama" Mantra was chanted during Deepa Pooja, Shivalinga Pooja and daily with our Balwadi school children, cultural class students and during monthly meetings by our Balwadi teachers and Social Workers. This month nearly 8, 37,928 times mantras were chanted in 84 localities.
This month, we have distributed the rice which was collected through Amrita
Surabhi and Anna Pooja to Balwadi children, old poor people and the institutions
as mentioned below :
1. Mouzhanagurusamy madam, Thottiodu - Kanyakumari district - 110 Kgs
2. Sasthankovil, Attoor - Kanyakumari district - 25 Kgs
3. Indhu Middle School, A.Thirumalapuram - Tirunelveli district - 100 Kgs
INSPIRING INCIDENTS
P.Packiasaroja – Peyankuzhi – Kanyakumari district
On 04.04.2018 during the eye camp at Kanyakumari I happened to near a conversation between two women about our free service with Aravind Eye Hospital. One lady had already got operated and the other lady was clearing her fear and doubts about the care – taking nurses in the hospital though they were admitted for free treatment. She also expressed her gratitude towards Kendra service workers for their deep concern and guidance rendered before admission in the hospital. The nursing care in pouring eye drops and feeding them in time was appreciated much by her. Theirconversation encouraged me to serve such helpless aged people more and more.
C.Saraswathi – Ambai – Tirunelveli district
On April 1st I visited sister. Alagammal, the former Social worker of Vivekananda Kendra at her home. She narrated a surprising incident happened in her family. A few months back she had suffered a lot due to ill health and was admitted in the hospital. She was hospitalized for more than one month. As there was not much improvement in the medical treatment she started chanting Bhagavad Gita Slogans with deep faith. To the great surprise of the doctors marvelous improvementwas seen and she was discharged from the hospital. They followed the same when her elder sister met with an accident and there was a fracture in her leg. Doctors felt that even though the affected part was operated she would not be able to walk as earlier. They chanted Gita slogans faith fully during thetreatment and now her sister is quite normal. When I heard this I was thrilled with the effect of practicing Gita slogans with sincere faith. Really Bhagavad Gita was not a more book, it was a
spiritual wealth.
V.Janakipushpam – Vallioor – Tirunelveli district
On 18th April we went to Ilayarkulam village for collecting paddy. Due to poor rainfall during the previous two years the village had suffered a lot. But this year they were blessed with enough rainfall
and hence they welcomed us whole heartedly and each family provided us one measure of paddy. I told them about the pathetic condition of our Creche building. A well-wisher named Sudalaiyandi explained me that in 1982 the Creche was started in our house only. Then we arranged for the separate building by collecting some amount from the villagers. Though we thought of demolishing it something hurdles the work. As there is fine harvest this year we will arrange for it. His involvement towards Vivekananda Kendra touched my heart.
P.Tamilselvi- Thoothukudi – Thoothukudi district
For the Annapooja to be held on 14th April, the Tamil New Year Day I went to Sawyerpuram Kamatchi Rice Mill to collect rice. The owner of the mill welcomed me and enquired about the services of Kendra. I informed him that due to poor harvesting the previous year's collection was not as expected and hence we found it very difficult to provide rice for the needed. He was much regretted and asked why I hadn't approached him. He also assured me that here after if there exists circumstances like that contact him through phone. He would arrange for the needed rice. Really I was impressed by his helping tendency and service mindedness. Only because of such persons our work is easier and flexible.
V.Somasundari – Checkkarakudi – I – Thoothukudi district
One day I was teaching General Knowledge to the kids. I started asking each one about their family and whom and what they like most in their family. At once a girl named Ramya stood up and told that there were Lakshmi and Rajeswari in her home. Soon Muthumari would come. She liked them so much. I know that she is the only child in her home. Hence I asked who they were. To my surprise she told me that Lakshmi was the cow in her house and Rajeswari – the little cub. Another cub is going to be born. She moreover explained me that as per my instruction only she called them in the names of Gods. Her dedication and faith towards me touched my heart.